Following the end of WW1, the development of passenger air travel and the use of light aircraft for pleasure flying marked the beginning of a desire for people to 'take to the skies'. Air travel was in its infancy, and most passenger planes were versions of military ones, and the preserve of the rich. This period became known as the 'Golden Age of Aviation'. Air displays were put on for ordinary people to have a taste of this new fangled technology, and some of the stunts included formation flying, wing walking and sign writing, and, for those who could afford it, to learn to fly.
Alan Cobham's 'flying circus' opened up opportunities for spectators at displays to 'take a short flight'. Pioneers would set world records: including: Alcock and Brown, Charles Lindbergh and Amy Johnson. Surplus numbers of WW1 aircraft made this possible. Aircraft companies: Avro, Handley Page, Hawker, Sopwith and Vickers Supermarine started to develop new designs. An example being: Geoffrey De Havilland, who in 1920, together with his team, focussed on building light aircraft for the UK market and the DH Moth series of aircraft designs was born.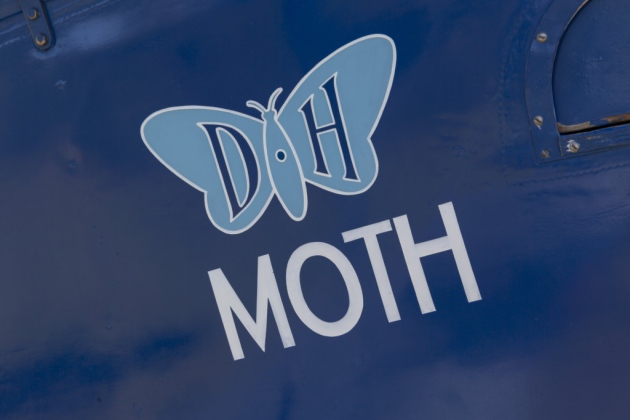 Did you know?
The DH 'Moth', name was used after one of Sir Geoffrey's interests: Entomology, the study of butterflies and moths, hence the various names given to the DH Moth aircraft designs, built and flown from their Stag Lane aerodrome site, in Edgeware North London. 
A total of 7 Moth designs were manufactured at Stag Lane and later at Hatfield. They included: DH60 Moth, DH80 Puss Moth, DH82 Tiger Moth (top photo), DH83 Fox Moth, DH85 Leopard Moth, DH87 Hornet Moth and DH94 Moth Minor. Many of these variants were also manufactured under licence in Canada and New Zealand, up until the outbreak of WW2.
Places to visit:
Shuttleworth Collection at Old Warden in Bedfordshire
www.shuttleworth.org/the-collection
Imperial War Museum at Duxford in Cambridgeshire
www.iwm.org.uk
DH Aircraft Museum in Hertfordshire
www.dehavillandmuseum.co.uk
East Midlands Aeropark in Derbyshire
www.eastmidlandsaeropark.org
National Museum of Flight at East Lothian, Scotland
www.nms.ac.uk/flight
Royal Air Force Museum at Hendon in London and Cosford in Shropshire
www.rafmuseum.org.uk
Fleet Air Arm Museum in Somerset
www.fleetairarm.com
Related features...